We will gather on

March 7, 2020

,
near the Hyde Street Historic Pier at

7:30 pm
at Hyde and Jefferson Streets in San Francisco.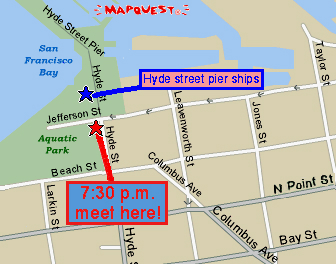 At

7:50 p.m.

, after Havdalah,
we will join the National Park Service
for a free public sing-along.
Reservations are required, so tell them you are with the Yeashore Community!
We will have a fun evening singing songs sailors sang sailing the seas,
aboard an historic ship, inside, at the Hyde Street Historic Pier.

No facility in music or singing needed - only a desire for song and spirit!!

We will share our voices into the night!!
Don't want to sing? Then come down and listen!


This free National Park Service Chanty Sing program takes place on the first Saturday of every month from 8:00 p.m. to 11:00 p.m.

Wear warm clothing, or a bring a blanket, and bring a mug for hot cider or hot chocolate served from a ship's galley.

For months that the Yeashore Community does not set up reservations and join in at the Chanty Sing,
please contact Ranger Peter Kasin at 415.561.7171 or peter_kasin-at-nps.gov (Replace "-at-" with "@") for reservations or more information.


To meet us, please look for a Fish Windsock,
at the location!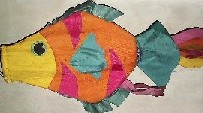 =+=+=+=+=+=+=
Even though winter is not Bonfire season,
the Yeashore Community continues to gather during the winter months.
We join other groups for various activities,
such as singing, or storytelling, and more through the winter!!
To join the E-list, VOLUNTEER, questions, requests,
more info, or comments
E-mail: Yeashore-at-yahoo.com.
(Replace "-at-" with "@")
Write soon and often!

...Be Seeing You...Maggid Raja Anderson...
A Maggid is a Jewish Spiritual Leader,
Storyteller, Teacher, Preacher, Shaman.